European sustainable protein sector raises €2.2 billion as market matures
2 March 2022
New data released today by the Good Food Institute reveals sustainable protein companies across Europe raised more than €2.2 billion throughout 2021.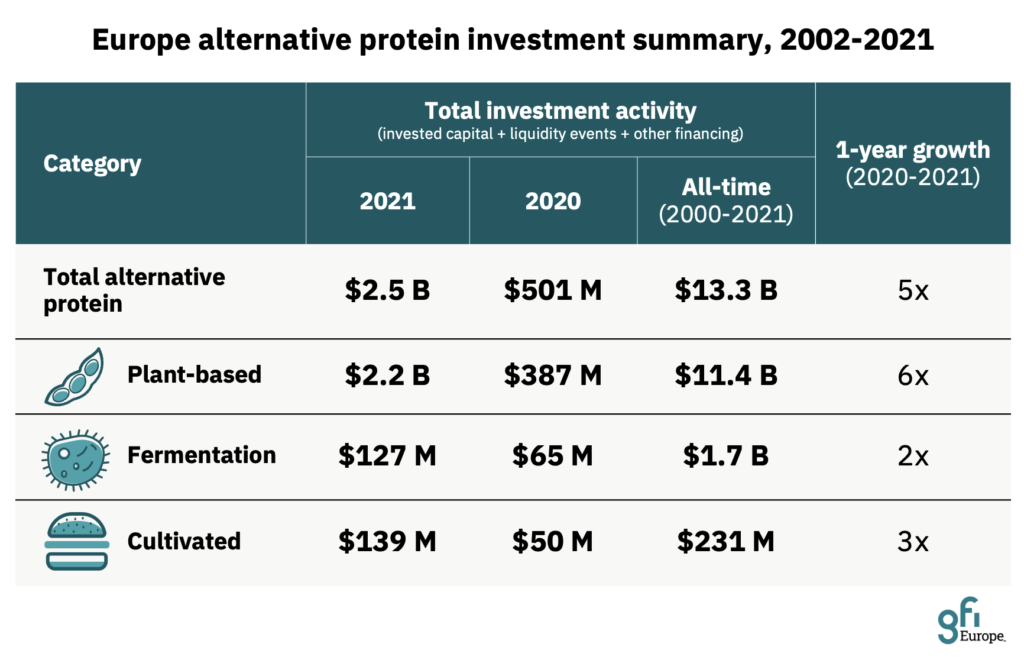 New data released today by the Good Food Institute reveals sustainable protein companies across Europe raised more than €2.2 billion ($2.5 billion) throughout 2021.
The figures show the continent's pflanzenbasiertem market began to mature last year, with many companies undergoing mergers, acquisitions and stock market listings, rather than focusing on venture capital deals, which are more suited to startups.
Europe's kultiviertem Fleisch companies, which grow meat from animal cells, almost tripled the amount they raised in the previous year, attracting €123 million ($140 million) compared with €44 million ($50 million) in 2020.
Investment in Fermentationsprozess companies – which use microorganisms to produce meat, eggs and dairy – almost doubled to €111 million ($127 million), up from €57 million ($65 million) in the previous year. This includes Berlin-based startup Formo, which creates animal-free cheese using precision fermentation and raised €45 million ($50 million) in the biggest-ever series A funding round for a European food tech company to date.
Highlights include:
Spanish sustainable protein companies saw investment figures rocket by 5,527% last year, raising €26 million ($30 million), up from just €0.49 million ($0.55 million) in 2020.
UK companies saw a 290% increase overall – with British cultivated meat companies raising €31 million ($35 million) and fermentation companies raising €45 million ($50 million) – both up from just over €1.79 million ($2 million) in 2020.
Investments in German companies rose by 243%, with signs that the country's plant-based market is maturing. Berlin-based Veganz was able to raise €48.5 million euros ($55 million) through an initial public offering (IPO) to fund further business development.
Sustainable proteins enable people to eat the meat they want, without contributing to the problems caused by animal agriculture, which is responsible for 20% of all greenhouse gas emissions, as well as driving deforestation, antibiotic resistance and pandemics. Research shows that plant-based meat causes up to 90% less emissions and uses up to 99% less land than farming animals. Cultivating meat from cells could cut the climate impact of meat by up to 92%, reduce air pollution by up to 93%, and use up to 95% less land and 78% less water.
Europe is one of the biggest potential markets for plant-based and cultivated meat – already accounting for 44% of the global plant-based meat market.
Companies across the continent making plant-based meat, eggs and dairy raised €1.97 ($2.24 billion) in 2021, mostly through liquidity events.
Europe's plant-based sector is maturing
Carlotte Lucas, Corporate Engagement Manager at the Good Food Institute Europe, said these figures demonstrated the continent's plant-based sector was maturing, and larger food businesses were becoming seriously interested in sustainable proteins.
Deals carried out in 2021 included Brazilian food giant JBS – the largest conventional meat company in the world – acquiring the Dutch company Vivera for €365 million ($415 million) and the Swedish plant-based dairy company Oatly raising just over €1.23 billion ($1.4 billion) following its IPO when it listed on the Nasdaq.
The figures come from global data released by GFI, revealing that 2021 was a record year for investments in sustainable protein companies.
The analysis of investment activity within these industries, conducted using the PitchBook Data platform, shows that worldwide, sustainable protein companies secured €4.46 billion ($5 billion) in disclosed investments – not including liquidity events. This figure is 60% more than the €2.77 billion ($3.1 billion) raised in 2020 and five times as much as the €890 million ($1 billion) raised in 2019.
Sustainable protein companies have raised almost €9.91 billion ($11.1 billion) in invested capital since 2010, 73% of which was raised since 2020 when Covid-19 first disrupted global markets.
Carlotte Lucas, Corporate Engagement Manager at the Good Food Institute Europe, said: "These figures demonstrate that Europe's plant-based meat industry has entered a new phase, with many companies maturing and choosing to raise money by floating on the stock market or seeking mergers and acquisitions with larger firms, rather than through the venture capital funding more suited to startups.
"It's great to see that so many larger companies are recognising the immense potential of this industry and are investing in building the large-scale production capacity we need to make sustainable proteins accessible to all.
"It's also very encouraging that investors are diversifying, with far more money now being put into cultivated meat and fermentation companies.
"European companies are leading innovators in the sustainable protein space – but other regions like the US are attracting even higher levels of investment.
"To maintain Europe's position at the forefront of this dynamic global industry, and to build a more resilient and sustainable food system, the EU and national governments must fund critical R&D to scale up production and bring down costs.
"This would in turn boost investor confidence and encourage the creation of more diverse types of financing such as non-dilutive capital – including various forms of debt, project financing, and infrastructure and equipment leasing – enabling the sector to build the solid foundation required."