GFI and EIT Food launch Innovation Challenge to bring down cost of cultivating meat
1 June 2022
Cultivated meat is getting closer to our dining tables, but there are still some pressing technical challenges we need to overcome.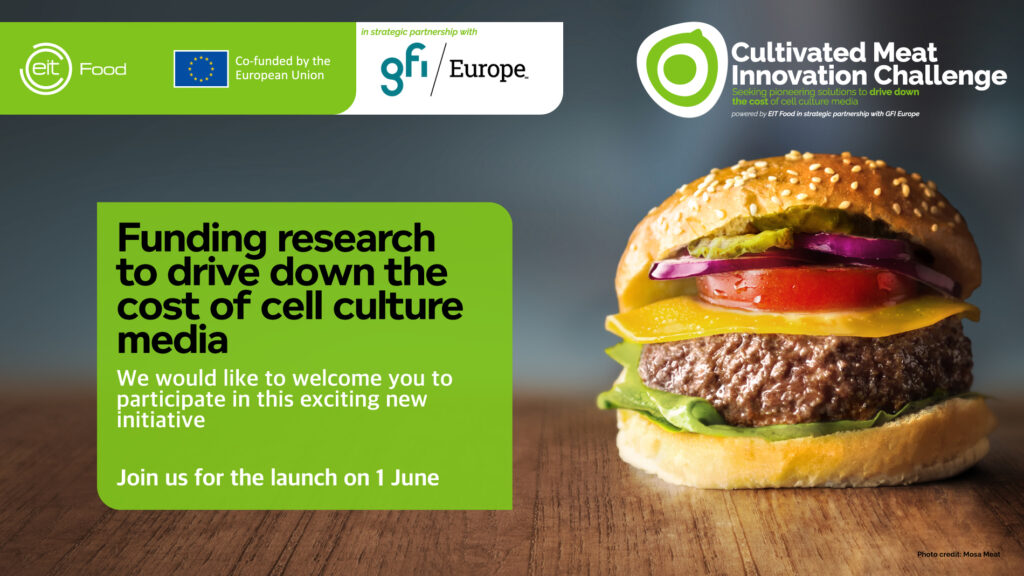 Cultivated meat is getting closer and closer to our dining tables, but there are still some pressing technical challenges we need to overcome.
That's why the Good Food Institute Europe has teamed up with EIT Food to launch a special prize for scientists, entrepreneurs, NGOs and governments, aimed at overcoming one of the biggest hurdles.
We'll be awarding up to four teams from across Europe €100,000 each for projects that can drive down the cost of cell culture media – one of the most significant issues preventing this new way of making meat from scaling up.
We're looking for projects with serious commercial potential, and successful applicants may ultimately receive substantially more funding from EIT Food to bring their products to market.
This is a huge opportunity for the right team, and could have a major impact on when we see cultivated meat arrive on our supermarket shelves, helping to develop a far more sustainable food system.
Scale of the challenge
Animal agriculture causes 20% of global greenhouse gas emissions – equivalent to all the planes, trucks, cars, trains and ships on Earth. And research cited by the Intergovernmental Panel on Climate Change shows it will be impossible to meet the Paris Agreement targets without a reduction in conventional meat production.
But with global demand for meat still rising, people are unlikely to move away from animal products unless they're presented with sustainable food that looks and tastes as good as the steaks, burgers and fillets they love – at an affordable price.
Cultivated meat has huge potential because it is exactly the same as the beef, pork, chicken and seafood people enjoy eating today – but with vastly reduced emissions.
A recent study by CE Delft – the first ever to be based on data from cultivated meat companies – found that cultivating meat from cells could cut the climate impact by up to 92%, reduce air pollution by up to 93%, and use up to 95% less land and 78% less water compared with farming animals.
It also avoids many of the other issues associated with industrial animal agriculture, such as antibiotic resistance, pandemics and deforestation.
Dealing with the technical challenges
But to deliver on this huge potential, we need to see far more investment in research and development focused on scaling up production and bringing down costs.
At the Good Food Institute, we've identified some of the biggest technical challenges preventing cultivated meat being produced at a commercial scale, and now we need your help to find innovative solutions to one of the greatest issues we've identified – the cost of animal-free cell culture media.
This is the nutrient-rich brew that feeds the cells as they grow in a cultivator, and is an essential part of the process – but, despite the progress made by some companies, it remains the most expensive element of cultivating meat.
What are we looking for?
We're looking for proposals that can address this through exploring various approaches, such as developing ways of removing or metabolising ammonia in cell cultures, or developing a low-cost cell growth culture that uses animal-free alternatives to expensive recombinant proteins and growth factors.
We want to see ideas that use recognised technical or scientific knowledge but bring a fresh perspective to the problem and – crucially – are ready to be commercialised within two to three years.
We'll consider applications from any countries eligible for Horizon Europe funding, and from any sector, including academia, government, industry, startups and nonprofit organisations, but all proposals are strongly encouraged to have a letter of intent from a company demonstrating that the project can be brought to market.
Based on our mission to make sustainable proteins accessible to all, the purpose of this programme is to support research that will be made publicly available, to benefit the industries and global society as a whole.
Grantees are strongly encouraged to make any of their data and results accessible via a public webpage, presentation, or publication in an open-access peer-reviewed journal.
If you're a scientist looking for a commercial partner, the Good Food Institute hosts a database of global sustainable protein companies, although we do encourage interest from companies and scientists who are new to this space.
We're also strongly encouraging proposals from women scientists and from people who are under-represented in the industry, such as those from ethnic minorities.
We'll be accepting applications until Friday 30 September, after which they will be carefully considered by a judging panel before the winners will be announced at an online award ceremony in November.
The winners of this competition have a genuine opportunity to make history. Good luck to everyone who enters – we can't wait to see your ideas!