Meet the researcher: Sniffing out better alternative seafood with Sirli Rosenvald
22 November 2022
'Reverse engineering' salmon might just be the key to the challenge Dr Sirli Rosenvald has set herself – developing plant-based seafood she would actually want to eat.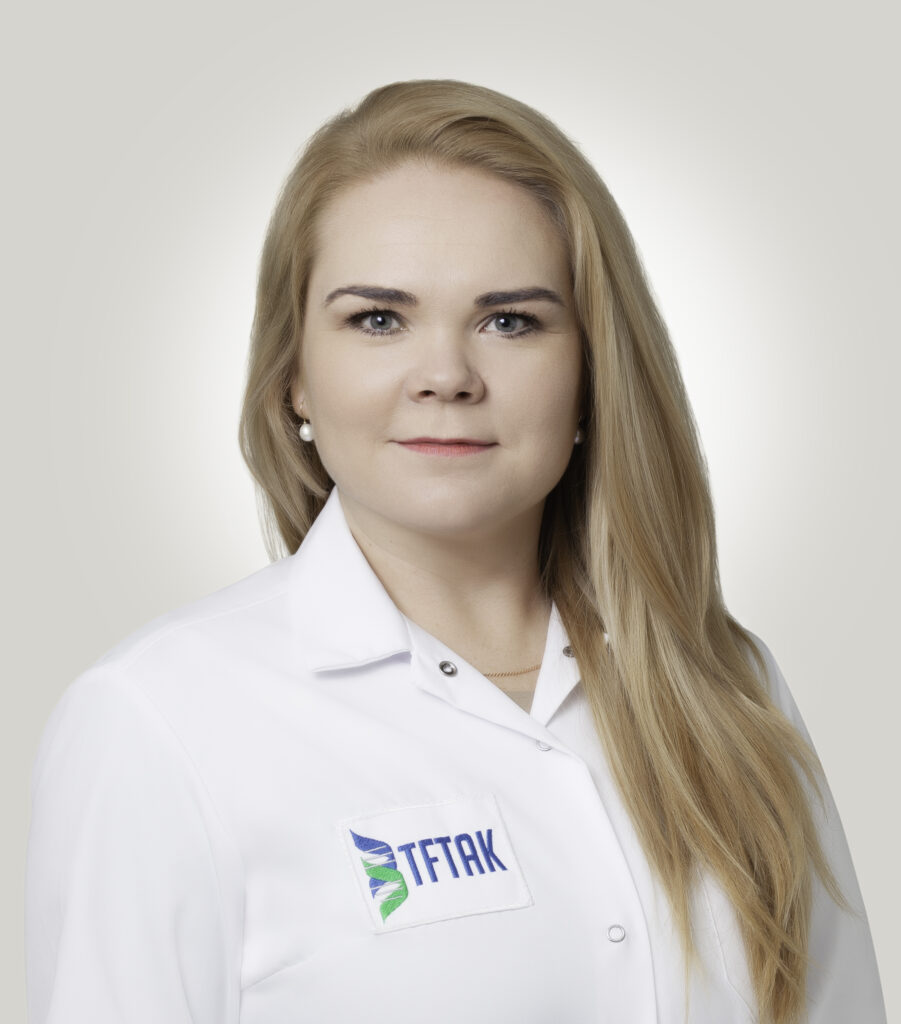 Name: Dr Sirli Rosenvald
Job title: Head of protein research, sensomics and meat alternative development
Organisation: TFTAK (Center of Food and Fermentation Technologies)
Sustainable protein specialism: Plant-based meat and seafood
---
'Reverse engineering' salmon might just be the key to the challenge Dr Sirli Rosenvald has set herself – developing plant-based seafood she would actually want to eat.
Sirli leads a team from Estonia's TFTAK (Center of Food and Fermentation Technologies) who aim to recreate the unique aroma of salmon by taking samples of the fish and unpicking its complex scent 'molecule by molecule'.
The team will create a series of scent profiles, eventually using this information to recreate the aroma using oils from plants, algae and microbes.
It is hoped that the Good Food Institute-funded study will deliver an ingredient that food producers can add to plant-based, fermentation-made, or cultivated fish, making these sustainable options smell and taste more authentic.
"If you want to replace something, you need to really understand what it is, take it down to its molecular level and put it back together – it's really the reverse engineering of tastes and smells," she explained.
A career spent following her nose
Developing an understanding of why food tastes and smells the way it does has been at the heart of Sirli's career.
After completing degrees in food science at TalTech – Tallinn University of Technology – and a stint working in product development for one of Estonia's breweries, Sirli returned to the university for a PhD studying the relationship between food molecules and their sensory properties.
This work included taking samples from flowers in a botanical garden to match them with the molecules found in honey, and her olfactory expertise ultimately led her to join the R&D company TFTAK, where she became their team lead for sensory and aroma analysis.
In 2019, she got another role, leading a section of the company's food department working with functional foods and meat alternative developments, where she was driven by the challenge of creating plant-based foods capable of matching conventional animal products on taste.
"I want to use my skills to have some impact on the transition towards more sustainable foods. I believe there's a need to change the food system – at the moment, we're harming the planet and eventually we're not going to be able to feed everyone," she said.
"Personally, I still eat meat, but I understand the need for people to change their diets. My challenge is to create products for people like me, who want to eat more sustainably but are not willing to let go of the taste. My goal is to create products I would want to eat."
Bright future for sustainable proteins
Sirli is optimistic about the future of sustainable proteins: "We're getting closer to the development of foods that can replicate meat, and technology is moving us there faster.
"The plant-based products that are now appearing on the market are drastically better than what we had just four or five years ago, and looking at the developments taking place now – particularly with technologies like cultivation and fermentation – the products we'll see in a few years will be completely different."
She believes that, although the sustainable protein industry in Estonia and other Baltic countries is currently not as developed as other parts of Europe, consumers have a growing interest in these foods and a number of startups and new companies are being formed.
This includes Thormi, who have developed a range of meat alternative products from pea and oat protein in collaboration with TFTAK. Sirli herself is one of the co-founders of startup FUNKI that develops tasty, healthy and sustainable protein products from mycoprotein.
Meanwhile, Tallinn's recent Food Innovation Summit helped draw attention to the country's home-grown sustainable protein industry.
TFTAK is playing an important role in shaping the sector's development. As well as working with many of Estonia's startups, the company has begun holding lectures on sustainable proteins in local universities, based on GFI's online resources, and offering internships, while Sirli herself is now supervising PhD students researching topics such as plant-based meat.
However, she worries that there are not enough higher education curricula to match the enthusiasm with which students and researchers are taking to this area.
"Young researchers are very interested in this field, but it's challenging for them to get access to the education they need in our region.
"I always encourage students to go and study abroad to find out what's happening in the rest of the world – it's great if they bring that knowledge back home.
"I also encourage anyone who's interested to find out more about what's going on in this area – looking at the GFI resources and taking part in their webinars is a great place to start."
Are you interested in getting involved in the sustainable proteins field? Take a look at our resources.
If you're a researcher:
If you're a student:
Find educational courses around the globe through our database.
Sign up for our free online course introducing the science of sustainable proteins, explore our resource guide explaining what is available to students, and check out our careers board for the latest job opportunities in this emerging field.
Interested in helping turn your university into a hotbed of sustainable protein innovation? Consider applying to join GFI's Alt Protein Project.