A cow's worth of protein every two minutes – how fermentation could feed millions
It might get less attention than some of the latest plant-based and cultivated meat innovations – but its flexibility, low production costs and the sheer simplicity of its inputs mean fermentation could soon be feeding millions of people.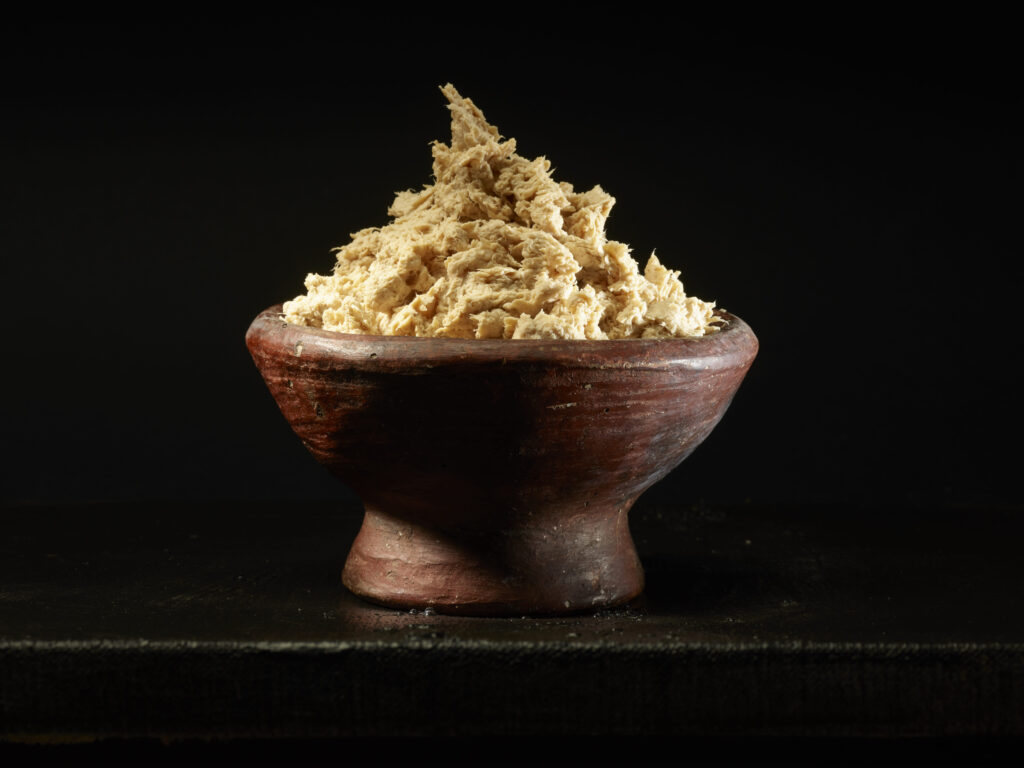 The sustainable protein space is all about using the latest advances in food science to deliver animal-free foods that match conventionally produced meat, eggs, dairy and seafood on taste, price and convenience. Companies are developing new innovations all the time – from 3D printed steaks to plant-based heme.
But one sector is optimising an ancient technique to scale up production fast.
Sustainable protein companies are building on age-old methods of making products like tempeh to produce foods that deliver the distinctive flavours and textures of animal products, without farming animals. Innomy and Libre Foods in Spain, Sweden's Mycorena, Germany's Mushlabs and The Protein Brewery in the Netherlands are just some of the European startups using fermentation to make meat.
An efficient process
They all use an incredibly efficient process. By feeding simple sugars to natural fungi sourced from earth, fermentation can grow vast quantities of mycoprotein (first marketed under the brand Quorn) very quickly – sometimes doubling in size within hours, compared to months or years for animals.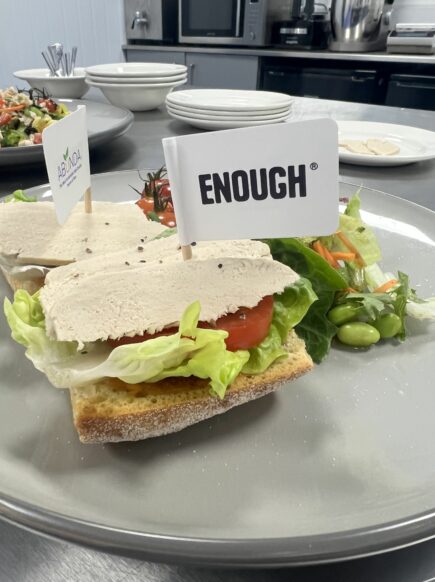 Glasgow-based ENOUGH Foods will next year open what is believed to be the largest protein factory built this decade, with initial capacity to produce the equivalent of more than five cows' worth of ABUNDA mycoprotein every hour. By 2027, they're aiming to deliver 50,000 tonnes per year – or one cow's worth of protein every two minutes.
This efficiency means that, compared with farming animals, meat made using fermentation is far less resource-intensive. Some companies even use byproducts of industries like wheat milling to source the feed for their fermentation processes.
This flexibility of inputs means fermentation factories can be based almost anywhere, and help satisfy growing demand for meat with a tiny fraction of the land used in conventional animal agriculture. If that freed-up space is used to restore habitats or to implement more sustainable farming practices, the benefits for the natural world could be even greater.
ENOUGH uses 97% less feed than beef and 80% less than chicken to produce a whole food protein containing all essential amino acids and high levels of fibre. Their new factory is co-located alongside the Cargill facility in Sas van Gent in the Netherlands, which provides a source of locally-grown sugars to fuel the fermentation process. Any resulting wastewater will then be passed directly to an ethanol facility next door as part of a completely zero-waste process.
Simple recipes
The final product is intentionally bland. When I visited ENOUGH's Farm and Kitchen in Glasgow last month, I had the opportunity to try raw ABUNDA protein straight from the fermenter. The texture was just like chicken – firm and flaky – but it tasted of nothing.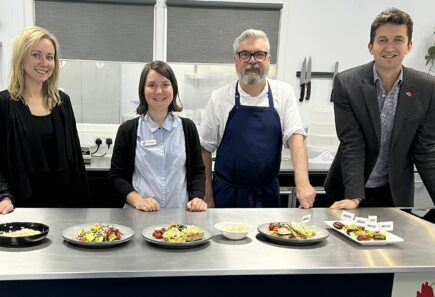 ENOUGH's chef, Michael Kilkie, likes it that way – because from that flavourless base, he can add simple ingredients to make ABUNDA taste of anything. On the day of my visit, he and Food Technologist Katarzyna Polanowska had prepared delicious chicken, tuna and beef, all using a handful of household ingredients. The range of flavours and textures was incredible. And unlike most plant-based options, ABUNDA is already approaching price parity with chicken – at €3 per kg.
Andrew Beasley, commercial director for ENOUGH said: "Mycoprotein, as we make it at ENOUGH, has been consumed and widely accepted for almost 40 years. At a time when consumers are demanding not only more sustainable foods, but healthy foods as well, fermented whole foods like mycoprotein are almost uniquely positioned to offer both. Short ingredient lists, simple processes and nutritious foods are created with ABUNDA, as well as being up to 20 times more sustainable than the animal alternative."
The potential of fermentation is clearly enormous. It's one of the most efficient ways of producing the meat people want, with carbon emissions 82% lower than conventional beef production and even 15% lower than growing peas. With its long history of consumption as Quorn, it's ready to scale up to meet soaring consumer demand for sustainable protein now – but it's going to need serious investment in skills and infrastructure to get there.
How to scale-up production
Private investors are beginning to catch on. Fermentation companies around the world raised $1.3 billion between January and October this year – 209% of the total invested in the sector in 2020.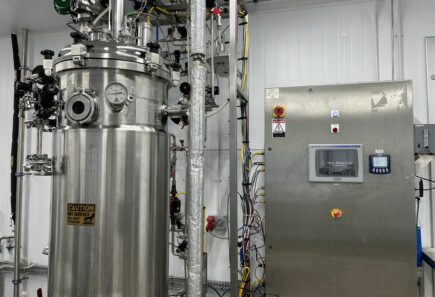 ENOUGH's new factory received €16.9 million of EU funding as part of the circular Bio-Based Industries Joint Undertaking within the European Union's Horizon 2020 research and innovation programme under grant agreement No 838104-Plenitude, which aims to enhance sustainability and create new bio-based jobs and products.
It's a start, but recent research shows governments around the world must invest $10 billion a year in sustainable protein research and commercialisation to achieve their potential to cut emissions by 5Gt every year. That means funding interdisciplinary university research centres of excellence to investigate fungi and microbial strains, as well as techno-economic models to inform product and process development, increased manufacturing capacity and more.
Crucial to this transition is the skilled workforce fermentation companies need to maximise their impact. With a complete lack of sustainable protein degrees or dedicated courses offered by European universities, ENOUGH have struggled to recruit expert scientists to support their R&D efforts.
Plant-based, cultivated meat and fermentation companies need governments to work with universities to deliver training on sustainable protein facilities engineering, biomanufacturing, operations, chemical engineering and industrial biotechnology. Without these essential skills, homegrown companies like ENOUGH will be forced to move their facilities overseas to achieve their potential.
Fermentation is a dark horse. It might get less attention than some of the latest plant-based and cultivated meat innovations – but its flexibility, low production costs and the sheer simplicity of its inputs mean it could soon be feeding millions of people. If governments are interested in satisfying demand for meat while achieving their climate targets, they must invest in fermentation.