Meet 7 researchers who used GFI research grants to help transform the future of food. Could you be next?
10 August 2023
GFI's 2023 research grant programme is open for proposals. Meet some of the researchers at the cutting edge of this burgeoning sector, learn how their work was helped by our grant programme, and how to apply to this year's scheme.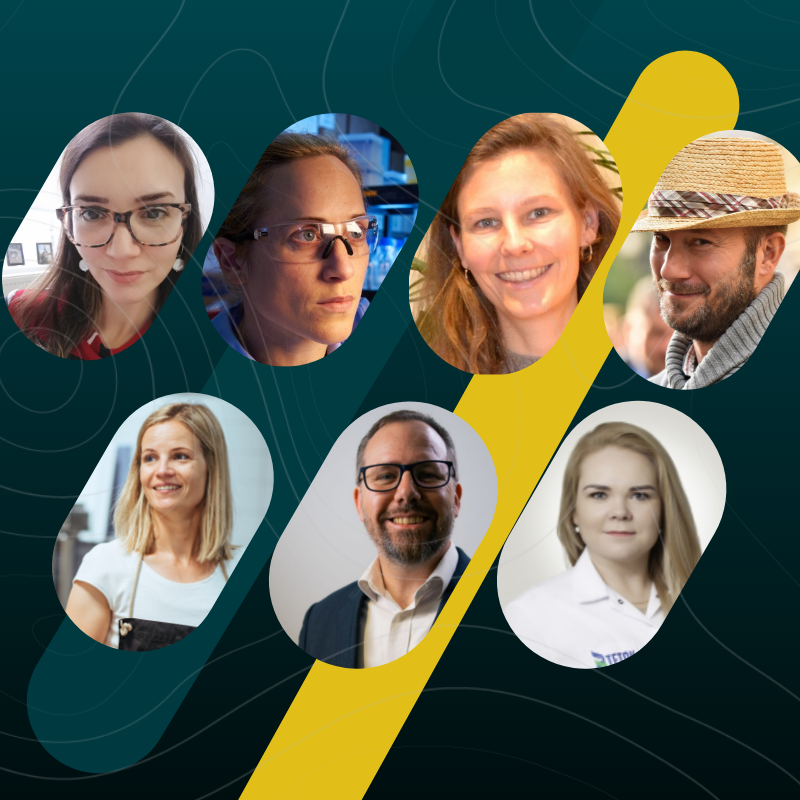 European researchers have long been at the forefront of sustainable protein science. The continent has been home to many innovations, one of the most notable being the first cultivated burger from Dr Mark Post and his team a decade ago. Today, countless researchers across the continent are all working on ground-breaking science to transform our food system into one that is better for people, planet and animals.
Since the programme began in 2019, the Good Food Institute's research grants programme has awarded over 100 grants worth more than $17 million to researchers in 17 countries worldwide. These projects have aimed to address the biggest challenges in sustainable protein science. With this year's programme now open for applications, we looked at seven previous European grantees to see how their grant helped them gain recognition for their work, raise their profile, and build their own businesses.
The scheme funds open-access research to build the scientific foundation of the plant-based, cultivated meat and fermentation sectors, helping overcome barriers to commercialisation and enabling startups and food companies to create products delivering the flavours of meat, seafood, eggs and dairy without the environmental costs.
Professor Marianne Ellis received funding in 2020-21 for a project to develop more efficient fermentors and improve understanding of cell behaviour. Now, she leads the Cellular Agriculture Manufacturing Hub at the University of Bath – the first research hubs of its kind in the UK, funded by the government to explore ways of scaling up cultivated meat production.
Sirli Rosenvald and her team at the Estonian Centre of Food and Fermentation Technologies (TFTAK) recieved funding for a project to recreate the flavour of salmon 'molecule by molecule' for use in plant-based, fermentation made and cultivated fish products. Her team have since used this research as part of a broader project to create a pea-based salmon fillet that is currently a finalist in the prestigious XPRIZE 'Feed the next billion' challenge, and is in the running for the $12 million prize money to support them in refining and scaling the product.
Other researchers who received funding have gone on to make the leap from academia into entrepreneurship.
Professor Che Connon from Newcastle University in the UK received a grant to research ways of improving the production yield and quality of cultivated meat. He has now gone on to form CellRev, developing cultivator technology for continuous processing, as well as 3DBT which announced a prototype of the first 100% cultivated pork steak earlier this year.
"I would like to thank GFI for giving us the opportunity to work on this – it really gave us a major step forward!"

Birgit Dekkers, Rival foods
Dr Birgit Dekkers from Wageningen University & Research in the Netherlands received funding for a project to develop plant-based whole-cut products in 2020 and went on to form the spin-out company Rival Foods with Ernst Breel, which last year raised €6 million from investors.
Speaking during a webinar about this year's grant programme, Birgit said the scheme enabled her to transform her research into a commercially viable product, saying: "I would like to thank GFI for giving us the opportunity to work on this – it really gave us a major step forward!"
Dr Petra Hanga of University College London told the webinar that receiving grant funding from GFI in 2019 resulted in her work being published and led to opportunities vital to becoming well-known in the field, such as being invited to talks and writing a book chapter.
She also believes receiving the funding enabled her to become the co-founder and chief scientific officer of British cultivated meat startup Quest Meat.
Switzerland-based Dr Richard Splivallo had already formed his own company when he received a grant last year. His startup Nectariss was originally founded to produce more affordable truffle oil, but he's now using the funding to utilise the same technology to develop realistic crustacean flavours by fermenting fungi.
It is hoped his project will identify strains of fungi that can produce flavours and scents closely resembling shrimp and lobster, eventually leading to a prototype product and findings that can be shared with other businesses.
Opening doors to sustainable protein sector
Richard told the webinar that the grant had opened doors by giving him additional visibility in the field, as well as helping him access other funding.
He also praised the efficiency of the application process and the support he received from the GFI team, saying: "As long as the vision is aligned and you want to bring the alternative protein industry forward, they're able to show a lot of flexibility."
Another researcher using the grant to develop better alternative seafood is Denmark's Dr Leonie Jahn, using the funding to work with a two-Michelin-star restaurant to create a new product by growing fungi on seaweed.
Her team will look into how the texture of filamentous fungi can be used to create sustainable protein products, eventually developing a whole-cut product recreating the texture of seafood with Diego Prado, head of research at Copenhagen's Alchemist restaurant.
How to apply for this year's research grant programme
These are just a handful of the European researchers who have benefited from the grant scheme, and the continent's scientists can now apply for a pot of up to $3.75 million before the 21 September deadline. GFI is funding up to $250,000 per project, with additional funding of up to $100,000 for collaborations bringing new researchers and industry stakeholders to the field.
The funding is open to those working across plant-based, cultivated meat and fermentation, with four main areas to which researchers can apply:
Extrusion 2.0: Enhancing traditional extrusion through process innovation and mechanistic evaluations of protein texturisation.
Developing tools and knowledge to promote stemness and proliferation in seafood cell cultures.
Data collection and curation to inform the development of genome-scale metabolic models for optimisation of feedstock formulation and feed conversion.
Improving feedstock availability for food fermentation in biomass and precision fermentation platforms.
If you are a researcher wishing to apply for the programme, please visit grants.gfi.org to start your application, creating a user profile first to access the template. Please visit our FAQs if you have any questions or contact our research funding team at research_grants@gfi.org.