Market insights on European plant-based sales 2020-2022
GFI Europe's analysis of NielsenIQ data across 13 European countries shows sales of plant-based foods grew by 21% between 2020 and 2022 to reach a record €5.8 billion.
Read the full report for Europe
Containing full segment breakdowns and key insights.
The plant-based sector is on the up in Europe
GFI Europe's analysis of retail sales data from NielsenIQ covering 13 European countries shows that sales of plant-based foods grew by 6% in 2022 – and 21% from 2020 to 2022 – to reach €5.8 billion.
Sales of plant-based meat grew to €2 billion in 2022 – accounting for 6% of the overall pre-packaged meat market – while other categories, including plant-based seafood and cheese, saw double-digit growth.
The global shift towards plant-based diets has sparked a revolution in the food industry, with major food manufacturers and retailers embracing the change. In Europe, plant-based food retail sales have surged in recent years as new products and innovations have come to market, enabling more consumers to purchase next-generation plant-based meat, seafood, eggs and dairy that are competitive with animal products on taste, price and convenience.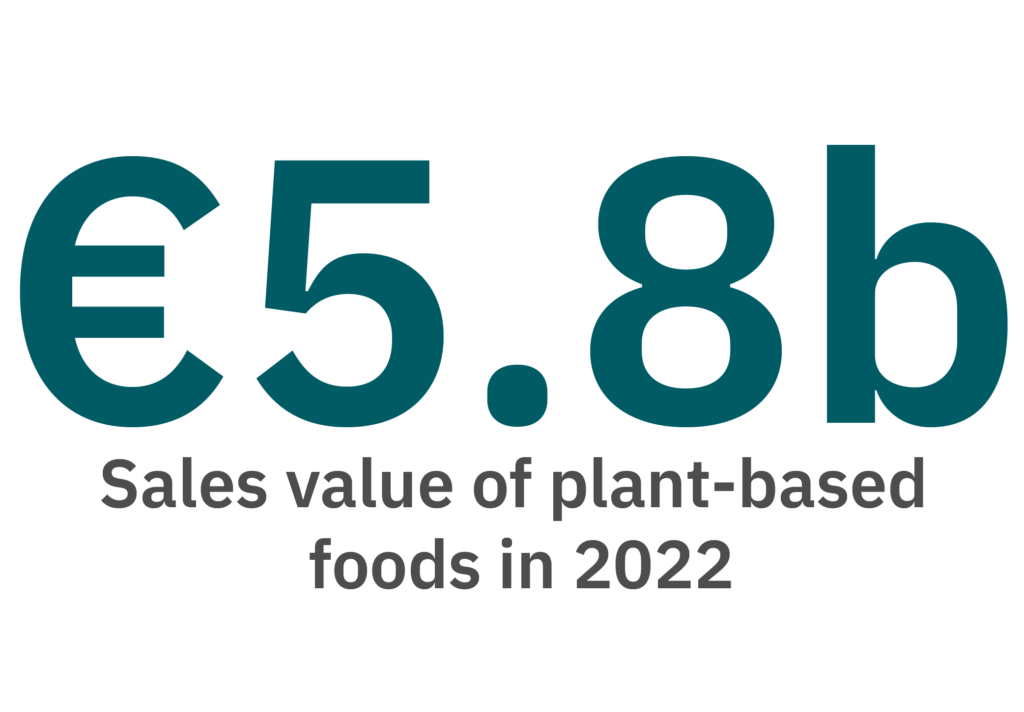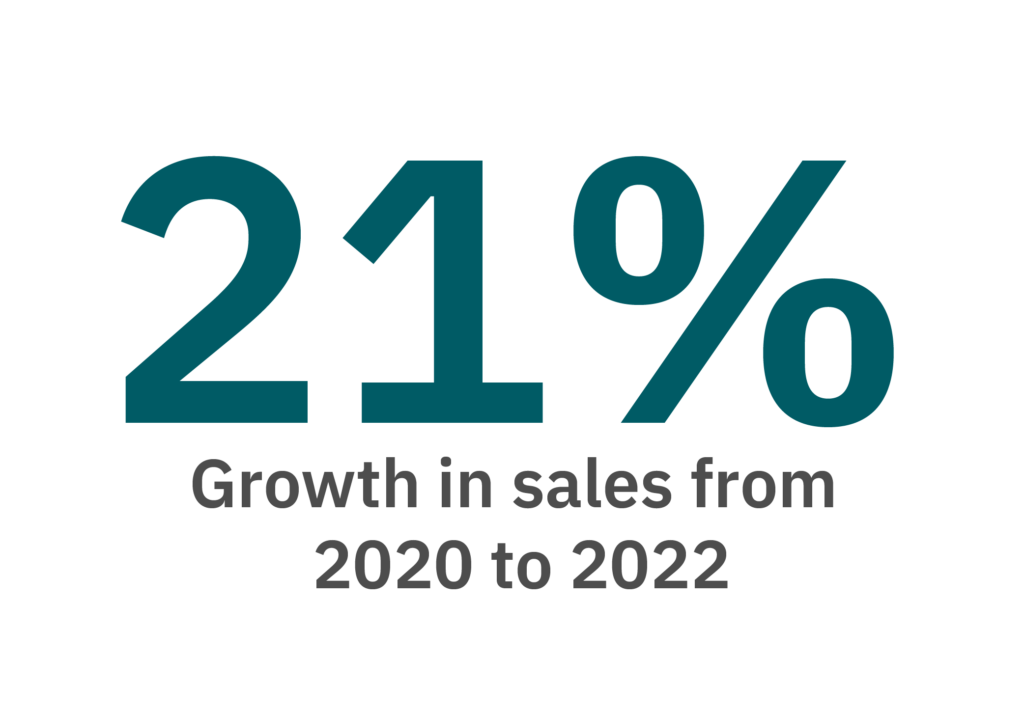 These figures are even more promising in light of the prevailing economic headwinds driven by the ongoing war in Ukraine, global trade tensions and inflation. The plant-based food retail market was not immune to these forces, experiencing a deceleration in 2022 growth versus 2021. However, both the value and volume of sales continued to grow, demonstrating robust consumer demand and a growing appetite for next-generation plant-based meat, seafood, egg and dairy products that compete with conventional products in terms of taste, price and convenience.
The countries included in the analysis were Austria, Belgium, Denmark, France, Germany, Italy, Netherlands, Poland, Portugal, Romania, Spain, Sweden and the UK. Full reports on the data from each country in local languages and in English can be found below.
Watch the webinar
Explore the data in more detail by watching our summary webinar on demand, which highlighted key insights and trends across various plant-based categories and countries.
Category breakdown
Our analysis covered 10 plant-based product categories: meat, seafood, meals, milk, cheese, yoghurt, spreads, cream, ice cream, and dessert. These categories lie at very different points on the maturity spectrum, from the €2.2 billion plant-based milk market, which accounted for 11% of total milk sales in 2022, to small but rapidly growing segments such as plant-based seafood, which experienced meteoric growth in 2022.
A breakdown of each of these categories can be found below.
Country-level reports
There was considerable variation seen across countries in terms of growth and category popularity. Find below full breakdowns of data by country, including links to download the full reports in both local languages and in English.
These findings are promising, particularly given ongoing macroeconomic conditions, and suggest that plant-based foods in Europe are set to continue on their upward trajectory. If you are interested in learning more about opportunities in the plant-based space, the Good Food Institute's Advancing Solutions for Alternative Proteins database is a great source to better understand key innovation priorities.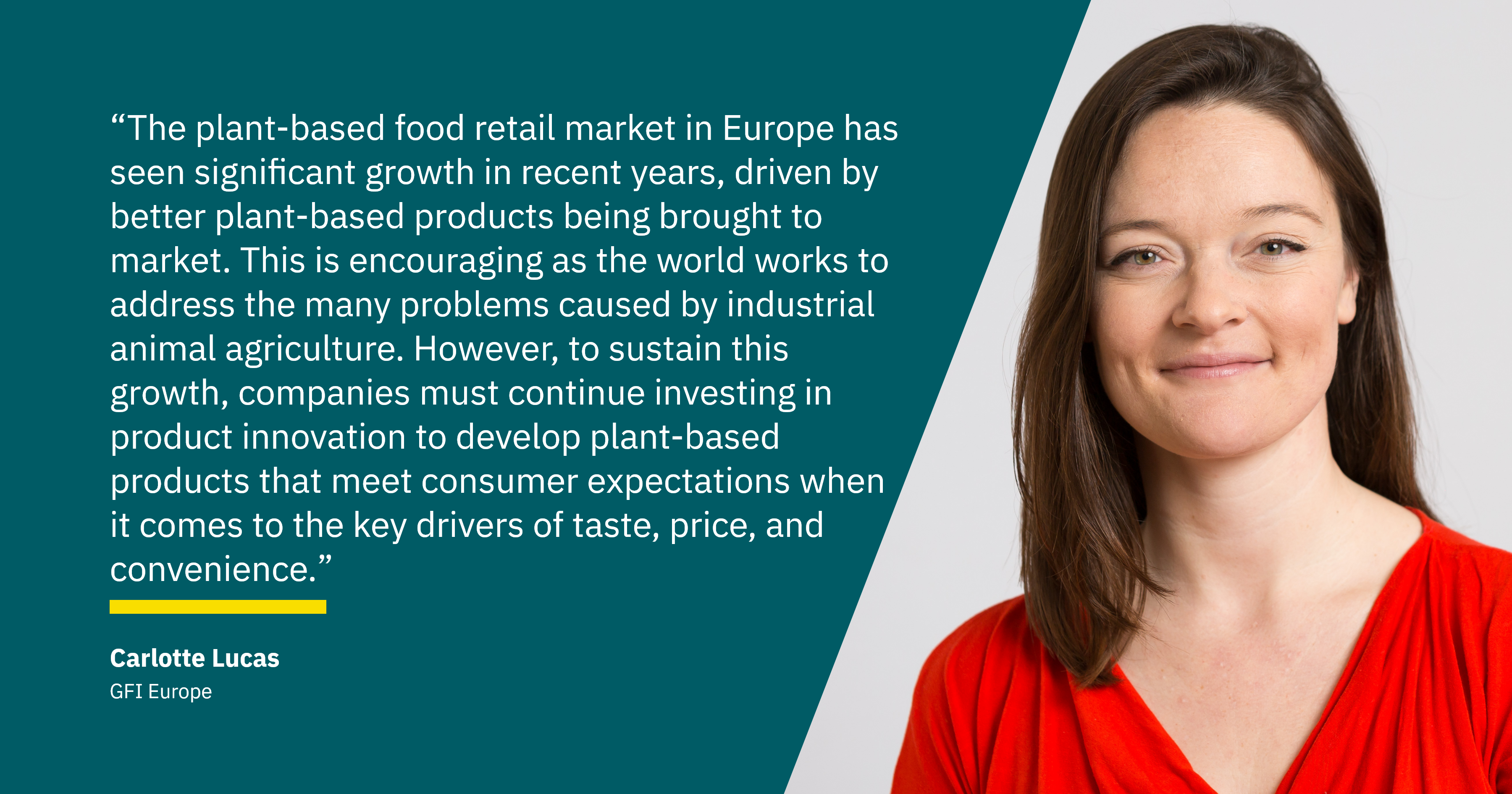 About the data
To size the European retail market for plant-based foods, GFI Europe commissioned retail sales data from market research firm NielsenIQ. Analysis in this report is based on data reported by NielsenIQ for the total plant-based, total dairy products, and total pre-packed meat categories for the 52-week, 104-week, and 156-week periods ending 31 December 2022, for the Austria, Belgium, Denmark, France, Germany, Italy, Netherlands, Poland, Portugal, Romania, Spain, Sweden, and UK markets, according to GFI Europe product hierarchy. Therefore the data presented in this report may not align with standard NielsenIQ categories. Copyright © 2022, Nielsen Consumer, LLC.
Addendum: In April 2023, we discovered some errors on the part of our data partner for the UK plant-based cheese, yoghurt, and dessert categories and the Poland plant-based cheese category. The corresponding sections of the reports, as well as the executive summary and overall plant-based food market section, have been updated with the correct sales figures.