Putting sustainable proteins on the table at COP27
23 November 2022
GFI Europe's Seth Roberts was at COP27, talking to policymakers about how plant-based and cultivated meat can help build a more sustainable food system.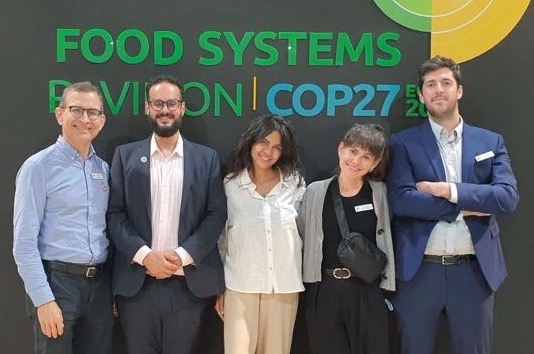 COP27 has ended in a deal that has disappointed many commentators – but this year's summit did see one significant milestone.
Despite a historic 'loss and damage' agreement to rebuild the infrastructures of countries ravaged by the impacts of climate breakdown, there was little progress on reducing emissions or phasing out fossil fuels, with last year's COP26 President Alok Sharma saying a commitment to keep global temperature rises below 1.5C 'remains on life support'.
But this was the first ever COP agreement to reference food. For the first time since COP1 in 1995, an agreement included a preamble stating that the parties recognise "the fundamental priority of safeguarding food security and ending hunger, and the particular vulnerabilities of food production systems to the adverse impacts of climate change".
The fact that the wording failed to reflect the need for urgent action to address the food system's contribution to global heating represents a missed opportunity, and research shows parties will need to prioritise taking action on this at COP28 if meaningful progress is to be made on limiting world temperatures below dangerous levels. With animal agriculture causing 20% of global emissions, transforming meat production must be a focus of future summits.
But thanks to the efforts of the Good Food Institute Europe, our global affiliates and a host of partners, one potential solution to the impact of meat production on the climate did get a hearing at COP27 – sustainable proteins.
Meeting the continent's leaders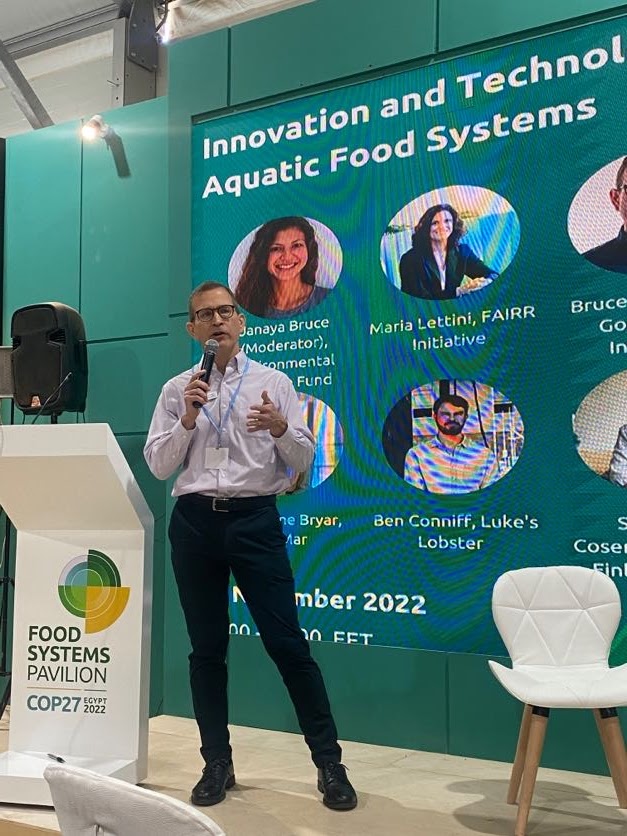 GFI's experts were on the ground in Egypt as co-hosts of the first ever Food Systems Pavilion alongside policymakers, nonprofits, and indigenous leaders. Together, we put forward solutions with the potential to build a more resilient, net-zero, nature-positive food system that still provides people with the foods they love.
We had a consistent presence throughout the summit – organising, hosting and speaking at events, bringing together politicians, industry and others to provoke discussions on the future of food and how innovation in food systems can contribute towards achieving climate and biodiversity goals.
I met face to face with policymakers from across Europe, speaking directly to country delegations from across the continent about the incredible benefits of plant-based and cultivated meat.
I discussed GFI Europe's work with national government representatives from Sweden to Spain and Ireland to Italy, as well as with the Scottish Government and the European Committee of the Regions – and I have already arranged more in-depth follow-up meetings with many of these policymakers.
In a week that saw the landmark announcement that the United States Food and Drug Administration (FDA) had given the green light to UPSIDE Foods' cultivated chicken, it was great to talk to government officials about how this food could become part of a sustainable future, as long as European leaders invest.
I also spoke with NGOs and charities from across the continent about ways we can work more closely together in the future – using our limited resources to spread the message more widely about the role sustainable proteins can play in the green transition, and the need for increased action on food systems' contributions to global heating.
And I was able to connect with businesses who were considering moving into the sustainable protein space, telling them about some of the critical bottlenecks and research white spaces in need of private investment to enable these foods to become the most appealing option for consumers.
Tasting the future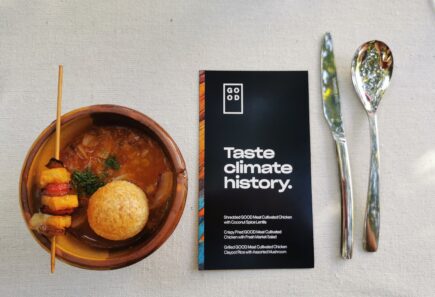 Cultivated meat was on the table in more ways than one during COP27. With help from GFI Asia Pacific, US company GOOD Meat held a series of tasting events where delegates and journalists – as well as climate leaders from nine countries – could try cultivated chicken for themselves, with many guests commenting on its authentic flavour and texture.
With world leaders discussing the planet's future just yards away, my GFI colleagues and I were able to talk to delegates about how this delicious meat can cause up to 92% less emissions than conventional beef, and 17% less than conventional chicken.
As we come to the end of a year which has seen record heat waves across Europe, devastating flooding in Pakistan, and droughts across China, Africa and the United States, the stakes couldn't be higher.
The world's eight billionth person was born as the COP discussions took place. With the global population continuing to rise, and global demand for meat set to almost double by 2050, sustainable proteins can give people the meat they want with a fraction of the emissions of industrial animal agriculture.
With war, climate shocks and supply chain vulnerabilities continuing to drive food shortages, plant-based and cultivated meat can feed the world far more efficiently than farming animals – using up to 95% less land and 78% less water, and utilising indigenous crops grown by small-scale farmers. Using less land means sustainable proteins can also help to end deforestation and create space to restore nature and farm sustainably.
The need for investment
We have seen some encouraging signs of governments understanding the importance of sustainable proteins, such as the Dutch government investing €60 million of funding for cultivated meat and precision fermentation, as well as investments in Canada, Israel and Australia.
But for these foods to achieve their full potential, we need to see the EU and European governments follow these examples, and invest in the R&D necessary to scale up production, drive down prices and improve the taste and texture of these foods – making sustainable options accessible to millions of Europeans.
Governments must also work in partnership with farmers and other frontline food system workers to create opportunities that enable new livelihoods in sustainable protein supply chains.
COP27 saw the dial start to shift towards sustainable proteins, but governments need to stop discussing and start investing.
If world leaders are serious about reducing emissions, boosting biodiversity and creating green jobs, they have a solution staring them in the face.