Pflanzenbasiertes Fleisch: Umsatz in Westeuropa steigt um 19 Prozent auf einen Rekordwert von 2,3 Milliarden Euro
14. April 2022
Daten zur Marktentwicklung im Einzelhandel zeigen, dass Westeuropa der weltweit größte Markt für pflanzenbasiertes Fleisch bleibt und weiter stark wächst.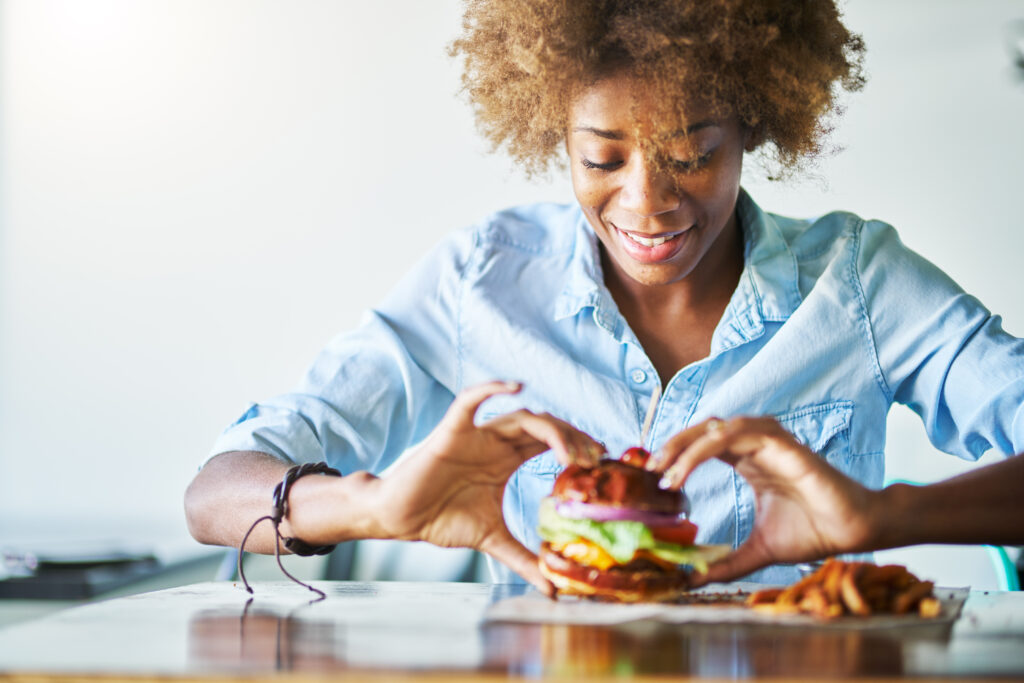 Ein heute vom Good Food Institute (GFI) veröffentlichter Report zeigt, dass Westeuropa der weltweit größte Markt für pflanzenbasiertes Fleisch bleibt: Laut Daten von Euromonitor lag der Umsatz mit pflanzenbasiertem Fleisch im europäischen Einzelhandel im vergangenen Jahr bei 2,3 Milliarden Euro – das entspricht einem Wachstum von 19 Prozent gegenüber dem Vorjahr und ist deutlich höher als in Nordamerika mit 1,9 Milliarden Euro. Der weltweite Umsatz im Einzelhandel mit pflanzlichem Fleisch stieg um 17 Prozent auf 5,2 Milliarden Euro. In Osteuropa stieg der Umsatz mit pflanzenbasiertem Fleisch um 34 Prozent auf 177 Millionen Euro.
Diese Zahlen sind Teil der State of the Industry Reports, die die Nichtregierungsorganisation The Good Food Institute jährlich zur Entwicklung von pflanzenbasiertem Fleisch, kultiviertem Fleisch, Lebensmittel aus Fermentation und nachhaltigem Seafood veröffentlicht. Die State of the Industry Reports enthalten Analysen zu den neuesten Entwicklungen im Bereich alternative Proteine – von technologischen Fortschritten über politische Rahmenbedingungen bis hin zu aktuellen Daten zu Investitionen und Handelsumsätzen.
Die Fortschritte, die Wirtschaft und Wissenschaft im vergangenen Jahr bei der Herstellung von Fleisch, Fisch, Eiern und Milchprodukten aus Pflanzen, Zellkultivierung oder Fermentierung gemacht haben, helfen dabei, die weltweit wachsende Nachfrage zu befriedigen – ohne zu den Problemen beizutragen, die durch die industrielle Tierhaltung verursacht werden. Die Veröffentlichung der State of the Industry Reports erfolgt eine Woche, nachdem der Weltklimarat (Intergovernmental Panel on Climate Change, IPCC) hervorgehoben hat, dass diese nachhaltigen Lebensmittel maßgeblich dazu beitragen können, die weltweiten Emissionen bis 2030 zu halbieren.
Trotz dieses enormen Potenzials für die Lösung von gesellschaftlichen Problemen zeigen die Reports, dass die Investitionen in Europa hinter denen in anderen Teilen der Welt zurückbleiben. Daher fordert das Good Food Institute die Europäische Union und ihre Mitgliedstaaten dazu auf, stärker mit öffentlichen Mitteln in die Entwicklung dieser nachhaltigen Alternativen zu investieren und so die Ernährungswende voranzubringen.
Die State of the Industry Reports zeigen:
2021 haben weitere Großunternehmen das Potenzial von pflanzenbasierten und kultivierten Lebensmitteln in Europa erkannt: JBS, das weltweit größte konventionelle Fleischunternehmen, hat das niederländische Unternehmen für pflanzenbasierte Lebensmittel Vivera und das spanische Start-up für kultiviertes Fleisch BioTech Foods übernommen. Zudem hat Nomad Foods aus Großbritannien, der größte europäische Hersteller von Tiefkühlkost und Mutterkonzern von Iglo, eine Zusammenarbeit mit dem Start-up BlueNalu im Bereich kultiviertes Seafood angekündigt.
2021 haben Unternehmen neue innovative Produkte auf den Markt gebracht: Die spanische Marke Heura hat pflanzenbasiertes Schweinefleisch, Wurst und Chorizo in den Verkauf gebracht. Das Schweizer Handelsunternehmen Migros hat ein hartgekochtes Ei auf pflanzlicher Basis entwickelt. Nestlé hat ein pflanzenbasiertes Garnelenprodukt aus Algen und Erbsen in den Handel gebracht.
2021 hat die Gastronomie weiter auf die wachsende Nachfrage reagiert: McDonald's brachte den McPlant-Burger auf den Markt. Die vegane Marke Naturli' Foods aus Dänemark kooperierte mit dem Hähnchenproduzenten Scandi Standard, um pflanzenbasierte Nuggets an Tankstellen anzubieten. Novish aus den Niederlanden brachte pflanzenbasierten Fisch in konventionelle Fischrestaurants.
2021 haben Fermentationsunternehmen in Europa große Fortschritte gemacht: Das Berliner Start-up Formo, ein Hersteller von tierfreien Käseprodukten, hat die bislang größte Series A-Finanzierungsrunde im Bereich Lebensmitteltechnik in Europa erzielen können. The Protein Brewery aus den Niederlanden hat den Bau einer Pilotanlage abgeschlossen, in der Zutaten für tierfreies Fleisch mithilfe von Fermentation hergestellt werden sollen. Weitere Pilotanlagen stehen vor der Fertigstellung und sollen in diesem Jahr in den Betrieb gehen – eine Anlage von Mycorena in Schweden sowie eine Anlage von ENOUGH in den Niederlanden.
2021 haben europäische Unternehmen bedeutende technische Fortschritte bei der Entwicklung von alternativen Proteinen gemacht: So hat etwa das spanische Start-up Novameat das bislang größte kultivierte Steak der Welt im 3D-Druckverfahren hergestellt. Das slowenische Unternehmen Juicy Marbles hat ein pflanzenbasiertes Filet Mignon entwickelt, das aus Soja- und Weizenproteinfasern besteht und bei dem Sonnenblumenöl für eine marmorierte Textur sorgt.
Im Hinblick auf die Investitionstätigkeit im Sektor zeigt sich auf der einen Seite starkes Wachstum gegenüber dem Vorjahr: Europäische Unternehmen für alternative Proteinquellen konnten im vergangenen Jahr Kapital in Höhe von 2,2 Milliarden Euro einwerben – auf Deutschland entfielen davon 121,5 Millionen Euro. Ein Großteil der europäischen Investitionstätigkeit stammte jedoch aus Kapitalmarktereignissen wie Fusionen, Übernahmen und Börsengängen. Die Investitionen aus privatem Kapital hingegen fielen im Vergleich zu anderen Weltregionen deutlich geringer aus.
Nimmt man die Kapitalmarktereignisse aus, dann haben europäische Unternehmen für Fleisch, Fisch, Eier und Milchprodukte auf pflanzlicher Basis im vergangenen Jahr private Investitionen in Höhe von 228 Millionen Euro angezogen – damit lag Europa deutlich hinter Nordamerika mit 1,0 Milliarden Euro und Lateinamerika mit 285 Millionen Euro. In Deutschland zogen Unternehmen Investitionen in Höhe von 19 Millionen Euro an, und zudem konnte das Berliner Unternehmen Veganz im Rahmen seines Börsengangs rund 50 Millionen Euro einsammeln.
Europäische Unternehmen für kultiviertes Fleisch und kultivierten Fisch konnten Investitionen in Höhe von 111 Millionen Euro einwerben – deutlich weniger als in den Vereinigten Staaten mit 643 Millionen Euro und in Israel mit 345 Millionen Euro. In Deutschland konnten Unternehmen, die an der Kultivierung von Fleisch und Fisch arbeiten, Investitionen in Höhe von 8 Millionen Euro anziehen.
Unternehmen, die mithilfe von Fermentation Fleisch, Fisch, Eier und Milchprodukte herstellen, konnten in Europa Investitionen in Höhe von 117 Millionen Euro einwerben – das ist deutlich mehr als im letzten Jahr aber nur ein Bruchteil der 1,4 Miliarden Euro, die allein in Nordamerika in Unternehmen aus dem Bereich Fermentation investiert wurden. In Deutschland wurden im Bereich Fermentierung 44 Millionen Euro investiert.
Carlotte Lucas, Corporate Engagement Expertin bei GFI Europe, sagte: "2021 war ein bahnbrechendes Jahr für alternative Proteine – Westeuropa blieb der weltweit größte Markt für pflanzenbasierte Lebensmittel und etablierte Unternehmen der Lebensmittelindustrie haben die Bedeutung des Sektors erkannt. Wir sehen aber auch, dass die Investitionen in europäische Unternehmen im Vergleich zu anderen Regionen der Welt verschwindend gering sind. Europa ist stark im Bereich der alternativen Proteine, aber andere Regionen – insbesondere die Vereinigten Staaten und Israel – entwickeln diesen Sektor deutlich schneller, und Europa droht, ins Hintertreffen zu geraten. Um das Potenzial dieser nachhaltigen Lebensmittel in Europa voll auszuschöpfen, braucht es deutlich mehr öffentliche und private Investitionen in Forschung und Entwicklung sowie in die Infrastruktur."
Ivo Rzegotta, Public Affairs Manager für Deutschland bei GFI Europe, sagte: "Der Umstieg auf pflanzenbasiertes und kultiviertes Fleisch kann einen wesentlichen Beitrag dazu leisten, die Treibhausgasemissionen zu senken, die Artenvielfalt zu erhalten, Risiken für die öffentliche Gesundheit zu verringern und die Resilienz des globalen Ernährungssystems zu stärken. Deutschland hat beste Voraussetzungen dafür, um sich als ein Innovationsführer bei alternativen Proteinen zu positionieren, aber private Investitionen werden alleine nicht ausreichen, um ins Spitzenfeld aufzurücken. So wie die Politik in Deutschland und Europa mit öffentlichen Investitionen die Energiewende und die Verkehrswende unterstützt, sollte sie nun auch die Ernährungswende mit öffentlichen Investitionen in alternative Proteien voranbringen."